Apple, Lettuce and Pomegranate Salad
Apple, lettuce, and pomegranate salad is an easy, healthy dish that's perfect for a quick weekday lunch. It can be made in under 20 minutes and it includes ingredients that are loaded with antioxidants to help keep you feeling your best all day long!
Eating seasonal local food sometimes means you have to force your imagination, founding different ways to cook the same (often boring) products, or start using others you might not be comfortable with.
Until recently that's what the pomegranate was for me – something vaguely familiar and a childhood memory but by no means a product I was used to.
And to be honest, it took me some time before I took the decision to try it again. I was influenced by reading about pomegranate's beneficial qualities and seeing it being used in many recipes, especially raw in salads. So forcing my memory to remember what it tastes like, I was pretty sure I liked it as a kid.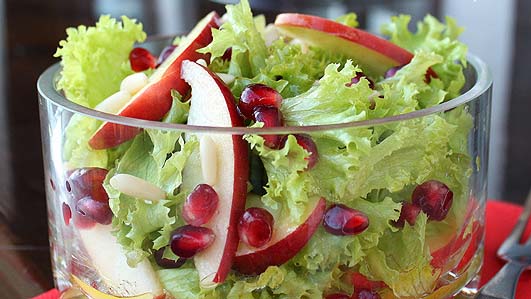 I also quickly remembered what a dreadful and messy business peeling pomegranates could be.
Then I learned a quick and tidy method of peeling them and I'm now able to extract the fragile juicy seeds from the hard outer core in a minute and without a drop of the precious juice on my clothes (see how to do it here). I think the time has come to try lots of pomegranate recipes that I earlier stayed away from.
Like this simple, but very refreshing and somehow festive salad.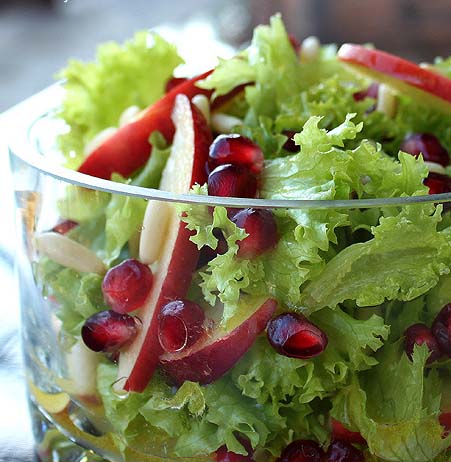 Apple, Lettuce and Pomegranate Salad
Description
This salad is light, refreshing, and perfect for summer. It's full of fresh ingredients that are not only high in nutritional value but also delicious! The combination of apples, pomegranate seeds, and crunchy lettuce makes this a unique dish that you'll love to share with friends or family. Bring it to your next outdoor BBQ or potluck!
For the salad:
For the dressing:
Instructions
For the dressing:
In a bowl combine vinegar, salt, and mustard. If you choose to use onion, grate it and add it to the mix. After the ingredients are well blended, pour in the olive oil and mix well again. You can prepare this dressing day or two in advance and store it in the refrigerator.
For the salad:
First extract pomegranate seeds (see how to do it easily). Drain in a strainer or colander.

Thoroughly wash and pat dry lettuce leaves. In a serving bowl tear lettuce leaves. Add drained pomegranate seeds. Cut apples into thin wedges and add to the lettuce.

Drizzle the dressing on top and toss carefully. Sprinkle the pine nuts over the salad.

Serve immediately.