Carrots, Chicories and Asparagus Warm Salad
Carrots, Chicories, and Asparagus Warm Salad Recipe are not only one of my favorite salads but also one of the most nutritious recipes on this blog. This recipe has been adapted from Cooks Illustrated so I highly recommend giving it a try if you haven't already!
Some might say this dish is not exactly a salad but it is all vegetables, it's light, bright and fresh, so we decided to call it a warm salad. It may also be a nice side dish for every type of meat, or even a light lunch just on its own.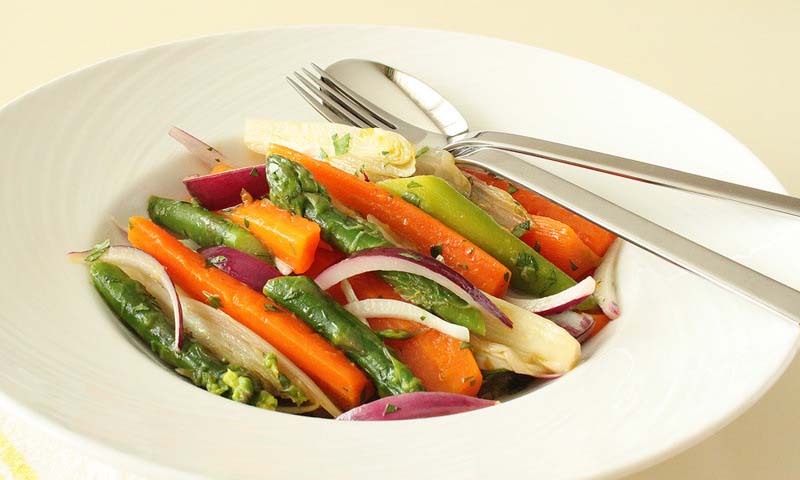 I particularly love the chicories in it, and how buttery and slightly bitter they become when prepared this way. Although I'm perfectly aware there are people out there (and one of them is actually in the house), that don't like chicory. The good thing is, as with every salad, the number of variations you can have – so if you're not sure about the chicories, replace them with French beans, or a vegetable of your choice.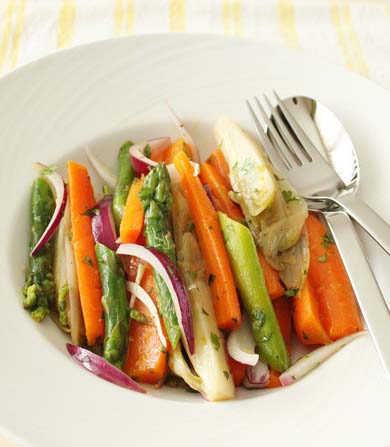 Carrots, Chicories and Asparagus Warm Salad
Description
This is a delicious salad recipe that is perfect for this time of year. It's loaded with vitamins and nutrients to keep you healthy during the winter months. The warm dressing makes it the perfect dish to serve at your holiday party or get-together. It will be sure to please everyone!
Instructions
First slice the onions (not very thinly), place them in a small bowl, pour the lemon juice over it. Leave it to marinate until you're preparing the other vegetables – this way they will lose some of their bites.

In a large heavy frying pan with a lid on, melt the butter over medium heat. Place drained and pat-dried chicories and carrots in a single layer, toss to coat and cook for about a minute or two in butter. Add asparagus, toss again and let it cook for a minute.


Pour over some hot water, around ½ cup (just to cover the vegetables partially), place lid on the pan, and bring to a boil. Simmer for 4-5 minutes, until the vegetables begin to soften, shaking the pan occasionally. Add some more liquid, if needed (it will depend on how soft you like your vegetables to be). We think a slight crunch is better, and if you do so too, be careful not to overcook them.

Take the vegetables out and place them in a salad bowl. Add the lightly softened onions, together with the juices. Reduce the remaining buttery liquid in the pan for a minute or so. Pour it over the vegetables, sprinkling some salt and the chopped thyme, and gently toss.

Serve warm, sprinkled with the chopped fresh parsley.