Chicory and Roquefort Salad Recipe
In the south of France, chicory and Roquefort salad are staple dishes that can be found on menus everywhere. In this blog post, we're going to look at the history of chicory and Roquefort as well as how they are made. We'll also share some recipes so you can try them for yourself!
We rediscovered chicory lately and still can't satisfy our appetite for these creamy white leaves. This ancient plant, known also as Belgian endive, witloof or just endive is in season practically all winter. Most commonly it's stuffed, baked, boiled, cut, and cooked in a milk sauce or in lemon juice.
But we only recently found that just a few simple ingredients are needed to complement its delicate flavor when it's row, and this is how this salad was created. It is light, crunchy, and lends itself to lots of variations. Used fresh, without cooking chicory is actually less bitter, but if you don't tolerate the bitterness at all go for the whiter leaves and avoid the harder inner part of the stem at the bottom of the head.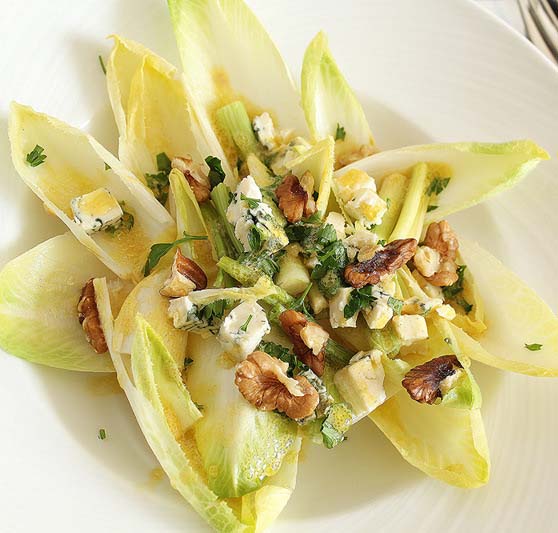 Chicory and Roquefort Salad Recipe
Description
This salad is a delicious mix of ingredients, combining roasted chicory with creamy Roquefort cheese. It's perfect on its own or as a side dish to roast chicken or grilled lamb. The dressing of balsamic vinegar and olive oil provides the perfect tangy-sweet balance for this hearty salad.
Instructions
Whisk together vinegar, mustard, and salt in a small bowl. Slowly add the oils, whisking constantly.

Arrange the chicory in a serving plate (or even better in individual plates). Sprinkle over the celery, walnuts, and the crumbled cheese. Drizzle with the vinaigrette and sprinkle with the chopped parsley.
Chicory and Roquefort Salad