Fresh Spinach and Quinoa Salad
A salad is a perfect dish to prepare for a weekday lunch. It's quick and easy to make, healthy, and you can use up any vegetables that are sitting around in your fridge. This spinach and quinoa salad have all of the nutrients you need for an afternoon snack or dinner side dish. Plus it's packed with protein from the quinoa!
It's confession time – once again we are not having great success maintaining the New Year's resolutions, to put it mildly. It was difficult, with the freezing weather outside, but with the first sunny days (and the thought we'll soon have to put on our swimming costumes) I am running out of excuses. And thinking about light food is becoming somewhat easier.
And, now, after confessing I'll stop feeling so guilty, and will give it a try again (especially that part that mentions "lighter and healthier food, mostly plants").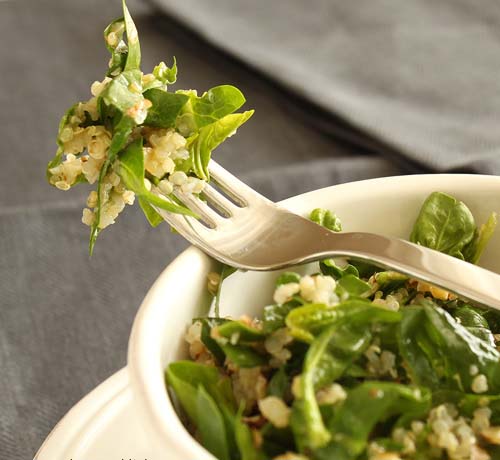 So, to celebrate the re-birth of our good intentions I've prepared this crispy salad. It's fresh, yet filling, and makes a perfect light lunch to go into the spring lunchbox. We love the crunchiness of the fresh spinach and its vivid color, and when it's possible, we're trying to have it fresh, without cooking it. However, if you prefer the warm spinach version, have a look at the last paragraph for instructions.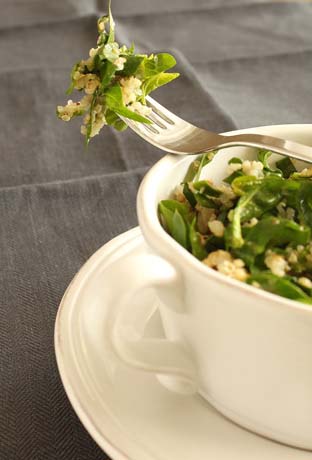 Fresh Spinach and Quinoa Salad
Description
This is a simple and easy recipe for fresh spinach and quinoa salad. It's perfect for lunch, dinner, or as a side dish. ​The quinoa adds protein to this already balanced meal while also providing fiber which helps regulate cholesterol levels.
Instructions
Prepare the quinoa first – it should be rinsed thoroughly in a fine strainer (or soaked in water for 10 minutes), to take out the slightly bitter coating. Add the quinoa to 2 cups of boiling water, cover and let simmer over medium to low heat for 15 minutes, or until the germ separates from the seed. We definitely prefer the quinoa al dente, with a slight bite to it. When it is ready, leave it to be slightly cool.

Of course, you can just soak the quinoa for 4 to 5 hours, and after a good rinse in lots of running water, it will be ready to use, without boiling.

Meantime rinse well the spinach leaves. If spinach leaves are a bit bigger, we usually cut them into stripes.

Blend together olive oil, lemon juice, and salt. If you decide to use garlic, mix it with the dressing ingredients.

When quinoa is cooled, adds spinach and crushed walnuts mix well, and pour over the dressing. Serve sprinkled with grated Parmesan or pomegranate arils.

For the warm spinach salad lovers: when the quinoa is cooked, add the spinach leaves to the saucepan and stir. Leave it over medium heat until spinach is almost wilted, for a minute or so. Add walnuts, halved cherry tomatoes, and grated Parmesan, briefly stir, and remove from heat. Prepared this way the salad is better served warm.