Marshmallow is a favorite dish of many people, especially those who have a taste for sweets. However, to meet the needs of people with a vegan lifestyle, there is a new type of marshmallow on the market. Those are vegan marshmallows. In this article, we will help you better understand this candy.
What are Vegan Marshmallows?
Vegan marshmallows are candy for people with a vegan lifestyle. This lifestyle not only does not eat meat but also does not eat foods derived from meat.
Therefore, vegan marshmallow ingredients are not eggs, butter, and milk. The manufacturer will replace them with ones that are not of animal origin.
Gelatin is a key ingredient in making regular marshmallows. But gelatin is an ingredient of animal origin. It is collagen from the by-products of the meat and animal skin industries.
Therefore, people will not use gelatin to produce vegan marshmallows. That's the difference between vegan marshmallows and regular marshmallows.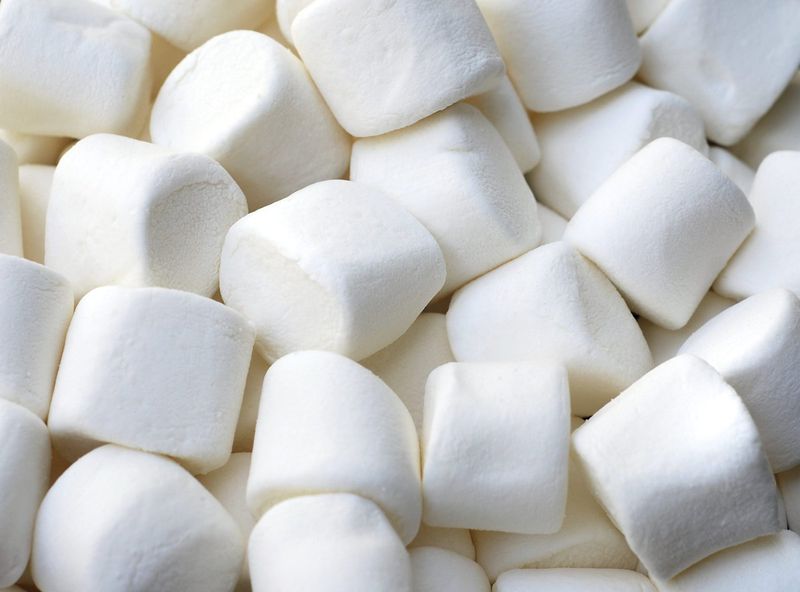 Manufacturers use gels made from seaweed such as carrageenan to replace gelatin.
Vegan marshmallows have other ingredients like corn syrup, sugar, and vanilla extract. These ingredients make vegan marshmallows more vegan-friendly for people with a vegan lifestyle.
Which Vegan Marshmallows Should be in Your Cupboard?
Today, there are many varieties of vegan marshmallows. But, not all are the same. We're going to suggest some of the best-rated vegan marshmallows brands.
---
1. Dandies Vegan Marshmallows
Dandies are the most popular brand of Vegan Marshmallows. Because it looks most like the regular Marshmallows. Dandies Vegan Marshmallows are light, fluffy, and soft. It tastes like the regular kind because of the delicious powdery coating.
The ingredients of Dandies Vegan Marshmallows are non-GMO ingredients. These include tapioca syrup, sugar, carrageenan, soy protein, and natural vanilla flavor. It comes in two handy sizes, regular and small.
You need to be aware of some disadvantages of this mark. It just has a classic vanilla flavor. Whereas other brands have different flavors. So, it will have fewer recipes using Dandies Vegan Marshmallows.
---
2. Freedom Confectionery Mini Pink & White Vanilla Mallows
Mini Pink & White Vanilla Mallows are square and solid. It is different from other brands. Since Vegan Marshmallows are usually light and fluffy.
Many people will be more interested in this brand because it comes in different flavors. Not only does it have a vanilla flavor, Mini Pink & White also has an interesting strawberry flavor.
This brand is famous for its delicious taste but there are some downsides. When baked, Freedom Confectionery Mini Pink & White Vanilla Mallows will be quite sticky. You can freeze them for 1 minute before baking to reduce stickiness.
---
3. Ricemellow Creme Vegan Marshmallows
The Vegan Marshmallows brand is a great choice for baking. Ricemellow Creme doesn't use corn syrup but instead uses brown rice syrup and soy protein. This helps Ricemellow Creme always keep its natural deliciousness.
Ricemellow Creme Vegan Marshmallows have a certain consistency. You can use them for many different baking recipes. The special thing is that you will not have to use any oil to melt them.
One downside that you need to be aware of is that this brand will be a bit expensive compared to others. But, there are still many deals when you buy at some local stores.
---
4. Smucker's Marshmallow Topping
Both adults and children enjoy these vegan marshmallows. It has a sweet and creamy taste because it contains artificial ice cream flavors.
Smucker's Marshmallow can be added to any other ice cream. This is a quick and easy way to show off your desserts.
---
5. Goodland Farms Mini Vegan Marshmallows
The delicious Goodland Farms Mini Vegan Marshmallows are made with all-natural, non-GMO ingredients that make them the perfect gluten-free alternative.
These little bits of fluffy goodness are going to melt in your mouth and give you a sense of peace and well-being on a chilly winter day.
They come packaged in a bag so it's easy to store or share these sweet treats! This fun snack is also perfect for vegan folks looking for an animal-friendly dessert option – just ask anyone at Goodland Farm!
---
6. Sarah's Candy Factory Vegan Jumbo Campfire Vanilla Marshmallow
You won't miss a thing at this campfire with "extraordinary" vegan morsels from Sarah's Candy Factory! These marvels will not only be extra delicious as they toast over a flame or in your cereal bowl – but also come in reusable jars for easy pack up.
These dehydrated mishmashes are vegan, gluten-free, and animal cruelty-free. Unlike the typical versions just about everyone has eaten in their lifetime, are much healthier for you and they have a distinct vanilla flavor that will make them your new favorite sweet indulgence.
Enjoy these scrumptious treats by themselves or mix them into any of your favorite desserts! Our granola bars dogs love to eat our adorable soft panda marshmallow bundles. You can also find it at sporting events sponsored by our company.
---
7. NEW Max Sweets Snacks Low Carb Keto Vegan Mini Marshmallows
With seven grams of healthy fats and zero added sugars, these mini marshmallows are perfect for a quick-fix sweet fix without the guilt.
Max Sweets Zero Calorie Keto Vegan Mini Marshmallows contain no high-fructose corn syrup (HFCS), artificial flavors, or sweetness in order to make it perfect for babies, children, fitness enthusiasts, and people of all stages.
They also have only three ingredients per serving: organic granulated sugar maltodextrin (glucose solids), water, nonfat milk powder. There is absolutely nothing pre-made about them!
---
8. Ziyad Gourmet Halal MINI Marshmallows
Leave the boring marshmallows behind and upgrade your campfire s'more experience with Ziyad Halal Mini Marshmallows. A sweet treat you can feel good about, these mini marshmallows come packed in delectable flavors like honey, chocolate, and birthday cake to provide a burst of flavor for your smores or sugary cereal crispy treats.
With all-natural ingredients to ensure everyone has an enjoyable treat that's not only tasty but it's halal too! Satisfy cravings anytime for hunger after just one bite plus they're perfect for baking or enjoying right from the bag.
So ditch those processed marshmallow snacks and indulge in some wholesome fun with Ziyad Halal Mini Marshmallows available on Amazon Prime now.
---
What Can You do with Vegan Marshmallows?
Besides using it as regular candy, Vegan Marshmallow has many ways to enjoy it. We will suggest some other fun and exciting ways to enjoy it for you.
Grilled Vegan Marshmallow
You can skewer Vegan Marshmallows into sticks. Then bake on fire. The outer layer will melt into a caramelized layer and harden. The inner layer still retains its delicious softness. During camping or picnics, many people often bring marshmallows to bake for sweeter fun.
Marshmallow with chocolate
Topped with melted vegan marshmallow chocolate with two muffins. Then squeeze them together to stick. You will create a similar version of the Chocopie cake. You will feel the bitter taste of chocolate mixed with the sweetness of marshmallows. This wonderful flavor is melting in your mouth.
Eat with cakes
If you are a baker or love to bake, Vegan Marshmallow is not an unfamiliar ingredient. You can use it to make a filling or decorate the top of the cake.
Enjoy with a drink
A cup of hot milk, cocoa, or hot chocolate will all become more wonderful when mixed with marshmallows. You drop in a few Vegan Marshmallows to enjoy.
Frequently Asked Questions
1. What's in vegan marshmallows?
Vegan marshmallows do not have any ingredients of animal origin.
Regular marshmallows will contain gelatin. But gelatin is an extract of the by-products of the meat and leather industry.
Therefore, people use gels made from seaweed such as carrageenan and agar-agar. This gel is used as an alternative to gelatin.
In addition, vegan marshmallows have other added ingredients. These include corn syrup, sugar, vanilla extract, and soy protein.
2. Do vegan marshmallows taste good?
When you use them in a cup of milk or hot cocoa, they taste just like regular marshmallows. Many people see them like whipped sugar.
When chewing, vegan marshmallows are slightly less fluffy. It's also a bit denser than regular brands. The melting point is also the usual one and the taste seems to be the same.
Therefore, we are sure that Vegan marshmallows will make your vegan ideas so much tastier.
3. What's the difference between regular marshmallows and vegan marshmallows?
The main difference between regular and vegan marshmallows is the addition of gelatin. Gelatin is a gel-forming substance derived from collagen in animal skin and bones. Vegan marshmallows are vegan-friendly so there will be no gelatin ingredients.
Summary
Above is information related to vegan marshmallows. If you are a vegetarian, we believe this information will be useful to you. Let's choose Vegan marshmallows to enjoy your vegan lifestyle.