Nowadays, many new cooking methods are emerging. If you are a food enthusiast, you will surely be no stranger to sous vide. This is a processing method using professional techniques.
Sous vide cooker is a cooker that cooks at low temperatures. This type of cooker helps chefs get the food with the correct doneness, color and flavor as they desire. So, what is sous vide cooker?
What is Sous Vide Cooker?
Sous vide cooker is an appliance that cooks food using the sous vide technique. This is the technique of cooking under a lower temperature than usual for cooking. The temperature is around 50 – 60 ⁰C. Food including meat and vegetables are stored in vacuum bags for cooking.
The method of cooking with a sous vide cooker usually takes a lot of time, averaging 1-7 hours. In some cases even up to 72 hours. However, the sous vide technique will help the food to cook evenly while keeping the original texture of the food. It also adds a special flavor to the dish.
Benjamin Thompson invented this particular cooking method in 1799. It was not until 1960 that the technique became widely used as an industrial food preservation method in the US and France.
How to Make Food with a Sous Vide Cooker?
Many people think that it is difficult to do sous vide at home. In fact, cooking with a sous vide cooker is very simple. We will detail how to make this cooking. The steps are as follows:
First, you need to determine the cooking temperature of the food. Because each type of food with different cutting thickness will have different cooking times when using a sous vide cooker.
Next, you put the food in the bag to conduct a vacuum. Finally, you put the food bag into the pot of water using a sous vide machine to control the temperature and cooking time. Now the process of cooking the food will begin.
After the food is cooked, remove the bag of food from the sous vide cooker. If not used immediately, you should reduce the temperature of the food bag to below 3 ⁰C for about 2 hours. Also, make a note of the date and time of cooking. Then store them inside the freezer compartment.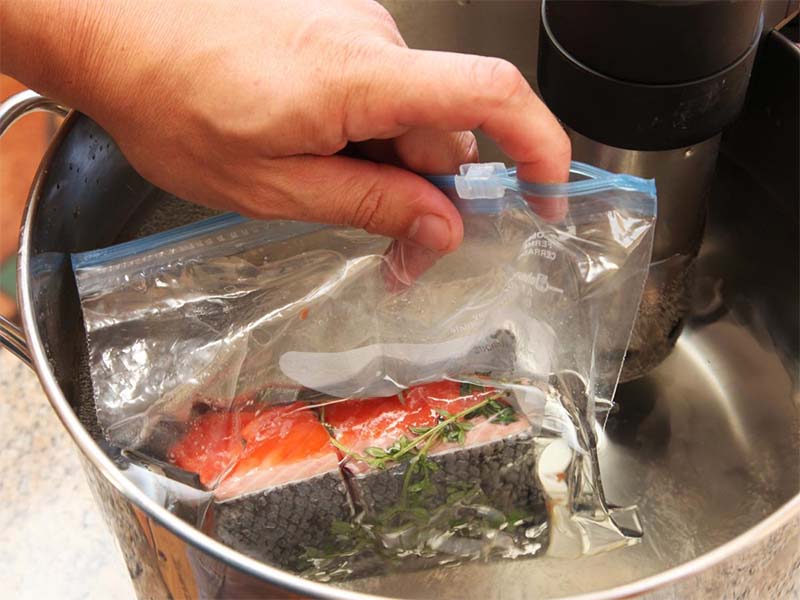 The Benefits of Using Sous Vide Cooker
Sous vide is one of those cooking techniques with a long history, appearing almost 4 decades ago. However, it is only really popular and widely applied in recent years.
There are many 5-star restaurants in the world that use this method to create masterpieces of taste and color. Surely the benefits that this method brings are significant. Because cooking with the sous vide method is quite time-consuming, it is still trusted by many restaurants.
The sous vide technique is used to maximize the organic qualities of the food. In addition, when cooking food with a sous vide cooker, it will ensure safety and longer shelf life. Food will be kept very well moist. Color and texture are needed throughout, evenly with this technique.
Because the food is in the vacuum bag, the liquids and outside air cannot come into direct contact. Taste and nutrients are preserved.
Especially without losing the aroma of spices, the dish is more delicious than conventional processing methods. The freshness of the food is preserved because during the cooking process no oxidation occurs.
For foods that are soft and break easily during cooking, sous vide is a technique for preserving optimal texture. This helps support food shaping to create dishes that look more appealing and beautiful.
You can also compress or alter the shape of the food to create a nicer texture. Food in a vacuum environment will ensure safety and hygiene and have a longer shelf life without the use of preservatives.
Time and Temperature When Cooking with Sous Vide Cooker
Foods can be divided into two groups: meats and vegetables. Therefore, when using the sous vide technique, you should also pay attention to the cooking temperature and time of these two food groups.
Specifically, meats often have complex textures. If normal cooking temperatures are used, the collagen in the connective tissue of the meat can be broken down into gelatin.
If the temperature is not high enough (cooking temperature) to heat the protein, the meat will become tough. This allows moisture from the meat to escape and causes the meat to become deformed and drier.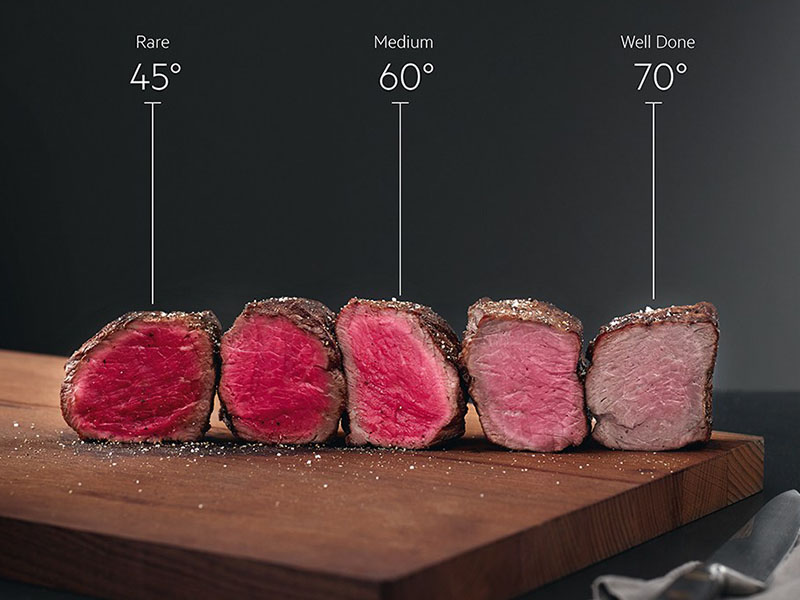 Therefore, when using the sous vide method, it is possible to maintain the ideal temperature for a long time. Time must be enough to break down the proteins.
As a result, the meat is cooked, evenly tender and retains its inherent moisture.
In addition, when using the sous vide method, the cooking temperature of meats will be lower than the temperature used to cook vegetables.
Top 5 Best Sous Vide Cooker on the Market
Which type of sous vide cooker is good and suitable to buy? If you are in need of buying it, let's take a look at the products that are highly appreciated by users for quality below.
1. PolyScience Creative Series Immersion Circulator
PolyScience is an American company specializing in providing Sous Vide cookers for the kitchen. This company not only produces high-quality materials but also ensures quality.
PolyScience Cooker is widely used in restaurant kitchens. It can help you control the timing and quality of food. The device operates with a capacity of 120/240V with a capacity of 1100W.
The sturdy design allows it to be used with a variety of pots to cook food such as meat, fish, vegetables, etc. The bag is carefully packed to ensure that the food is cooked without fear of burning or loss of smell.
2. Anova Precision Cooker WiFi (900 W)
Compared to version 1 with a capacity of 800W, the 2nd generation Anova Precision Cooker WiFi has a capacity of 900W. Accordingly, the speed of food heating is increased, making the cooking process more efficient. Precise temperature control gives you quality meals.
You can control it remotely with a smart device through a wifi connection. Users can easily monitor and control from Iphone or other connected devices. Timer and temperature control features make cooking even simpler. The parts are also removable for easy cleaning after use.
3. Anova Precision Cooker Nano
Compact design suitable for many different uses. The plastic shell makes it cheaper than other machines on the market. Extremely fast heating time for small amounts of food.
The appliance is suitable for cooking a variety of foods. Anova Precision Cooker Nano works well over an extremely convenient Bluetooth connection.
4. Kitchen Gizmo Sous Vide Immersion Circulator
Kitchen Gizmo has a fairly simple design with a not-so-complicated texture. Users can use it easily with just a few simple steps.
When starting up the sous vide cooker, you can set the temperature to cook food easily. You can create dishes that are both beautiful and taste great while still maintaining nutrients.
You can even disassemble the handle for cleaning after use. At the same time, you can control the temperature precisely during machine operation.
5. Gourmia GSV130 Immersion Circulator
Compared to other sous vide cookers on the market, the Gourmia GSV130 Immersion Circulator is quite light in weight and compact in size. This feature makes the process easier to use. This sous vide cooker is suitable for many different types of pots. It comes with safety clamps that ensure the food cooks evenly and slowly.
Each dish after being cooked will retain its rich flavor with moderate softness. Gourmia GSV130 Immersion Circulator has an LCD control panel with command buttons that allow easy setting of accurate time and temperature.
Last Words
Above are useful information that you need to know about sous vide cooker. If you haven't used the sous vide method in your kitchen yet, you should buy one to experience the benefits this particular cooking method has to offer.