Gingerbread Muffins Recipe
Gingerbread Muffins are a delicious way to get in the holiday spirit! This recipe is perfect for gingerbread lovers and bakers of all skill levels. It's simple, straightforward, and easy to follow. Get your oven preheated and ready for this seasonal treat!
Enjoy the delicious flavor of gingerbread cookies enveloped in a muffin for breakfast or as a mid-morning treat. Turbinado sugar sprinkled on top of each muffin adds a hint of crunch while ginger, cinnamon, and cloves offer a wonderfully spiced aroma. Prepare these gingerbread muffins on a snowy afternoon or before the holidays as a special treat for house guests.
If you've been around the Spice Kitchen + Bar blog for a long, you've likely noticed that I love muffins. My strawberry muffins recipe remains one of my classic favorites although these gingerbread muffins are better suited for the upcoming winter months. Nothing is more satisfying on a snowy winter day than a cup of coffee in hand and a spiced treat to accompany it.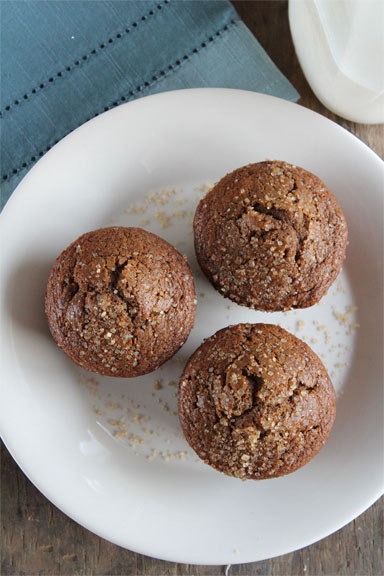 Gingerbread Muffins Recipe
Description
This gingerbread muffins recipe was made with the intention of making your house smell like warm, delicious gingerbread cookies without having to bake a batch! With this simple and easy recipe, you can make tasty treats in no time at all.
Instructions
Preheat oven to 375 degrees F and grease a muffin tin.

Combine the flour, baking soda, salt, ginger, cinnamon and cloves in a large mixing bowl. Set aside.

Cream the butter and brown sugar using a stand mixer with the paddle attachment until smooth.

Add the eggs to the mixer bowl, one at a time, and mix until smooth.

Add the vanilla, molasses, lemon juice, orange juice and zests to the mixer bowl. Mix until smooth.

Alternate between adding the flour mixture and the milk to the stand mixer bowl until all ingredients are combined.

Divide the muffin batter between the prepared muffin holders, filling each to the top.

Sprinkle the batter in each muffin holder with turbinado sugar.

Bake the muffins for 20 to 25 minutes or until lightly browned and firm in the center.

Remove from the oven and allow to cool slightly before serving.