Rocket Frisee Salads with Ginger Vinaigrette
Salads are a great way to start off your day. They're typically light and they can be dressed in so many ways, which makes them the perfect base for any meal. This recipe is quick and easy, but still has some flair that will make it stand out from other salads you'll find on the internet or at your local grocery store.
We didn't post a salad recipe recently – with all the fresh vegetables and fruits on the market we believe salad fans don't actually need much inspiration these days. But this one is interesting and new for us, so we decided to share it with you. We start with the desire to recreate something we already liked in a restaurant, but we changed it considerably in the process. The final result is fresh and sharp, and we love its variety of textures.
As all the ingredients are available the whole year-round, it is actually not a typical summer salad and you can have it whenever you want it.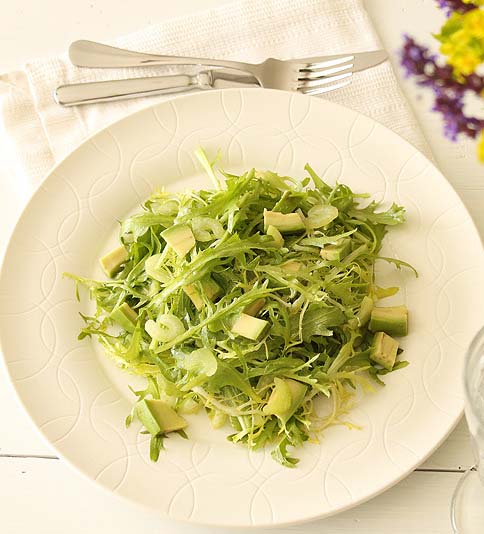 Rocket Frisee Salads with Ginger Vinaigrette
Description
It's fresh with ginger vinaigrette dressing which provides an added flavor boost to this dish. The frisee lettuce adds crunch while there are plenty of vegetables like carrots, cucumbers, tomatoes, and onions mixed in for additional texture and nutrients - all tossed together with a tangy dressing that will leave you wanting more!
For the Vinaigrette:
For the salad:
Instructions
Combine all the dressing ingredients in a small bowl and whisk them to blend. We use our flavor shaker for this task and it menages really well with it in less than a minute.

Wash thoroughly the leafy green vegetables and dry them in a salad spinner. Peel the celery stalks and slice them finely. Mix everything in a big salad bowl. Prepare the avocado at the end so it has no time to oxidize and go brown – cut it in two lengthwise, remove the pit and slice it into small cubes. Add in the bowl.

Drizzle the vinaigrette over the salad and toss gently.